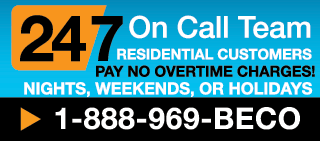 "I live in Charlotte and the gentleman that came to my mother's home in Sophia was patient and kind to my mother. He also called me with an explanation as to what the problem was and how he would fix it."

Beco Inc. was the first in the Triad to develop a home safety inspection plan. Our safety check includes a full diagnostic analysis of your home's electrical system.
Click the video below to learn more about the Beco 20+ Safety Check!
Some items that we check for include:
Check for proper grounding of the main electrical service into your home
Inspect the meter base for water damage, corrosion and that is was properly sealed- improper sealing could cause people or pets to be electrocuted
Main breakers or fuses
Visually inspect the fuse or breaker panels for blank spaces which could cause an electric shock if not covered
Check to assure the proper breakers or fuses are used on all circuits in the home to prevent a fire hazard
Check load center/panel for proper grounding
Check for proper grounding of all appliances, washers, dryers, ranges, ovens, etc. (if outlets or junction boxes are accessible)
Check to assure all unused electrical outlets have the proper covers or plates installed
Verify all light fixtures are properly grounded
Check to assure proper lamp/bulb sizes are used in all lighting fixtures to prevent a fire hazard
Check to verify that all GFCI receptacles or breakers are functioning properly
Verify all outdoor lighting is working properly
If multi-outlet strips are used, verify they are adequate to handle the devices plugged into them
Visually inspect the wiring, insulation and other components in the panel or fuse box for evidence of arching/carbon build up-or excessive overheating
Verify that any metal water piping in the home is properly bonded
Check extension cords
Check smoke detectors for proper operation