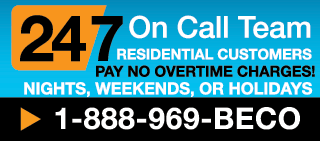 "The salesman that came to my house was pleasant, not in a hurry and willing to take the time to go through step by step of how the procedure would go. Could not complain about any service from beginning to end."
"The people you have working for you are very professional and the work shows."
"The rep thoroughly explained what we needed to know about the Generac generator, answering all questions."

Generator Sales and Service in Greensboro, High Point, Winston Salem, and Burlington, NC.
Residential Generators - Generac Dealer
Beco Inc. is an authorized Generac dealer in Greensboro, High Point, Burlington, and Winston Salem with a team of certified technicians for your Sales and Service needs.
Whole Home or Partial Home Generator Installations A whole home generator installation allows you to have full use of all your electrical products as you normally would. A partial home generator installation provides 8 to 16 circuits such as a few lights, refrigerator, microwave, and TV. The partial home generator installation would typically not include HVAC, water heater, or dryer.
Why have Beco install a Generac generator?
Free estimates
Beco stocks the most popular sizes of Generac generators and their accessories
Beco's professional technicians are trained to install generators and will do it safely and completely
When an emergency occurs, you want to know your generator will perform-and not cause additional problems for you
Service is provided by certified, professional Generac trained technicians
Mobile Link constant status notification system.