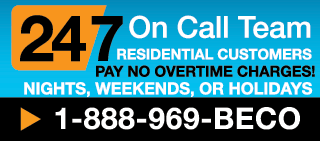 "The salesman that came to my house was pleasant, not in a hurry and willing to take the time to go through step by step of how the procedure would go. Could not complain about any service from beginning to end."

Commercial Stand-By Systems
Emergency situations are virtually unavoidable so having the proper stand-by systems to ensure your facility continues business as usual is important to us.
Beco Inc. offers stand-by systems as mentioned below in order to help you continue on with your day when an emergency causes your power supply to shut down. Whether it be due to cold weather conditions creating a power outage or lightning striking your facility, stand-by systems help to prevent complete shut down during these situations. A few examples of stand-by system areas that Beco Inc. is able to provide include:
Generators of all makes and models
Uninterruptable Power Supplies
Lighting Design and installations
Lighting Audit
Monthly Inspections
Emergency Lighting
Exit Lighting
Parking Lot Lighting
60 Ft. Bucket Truck
Landscape lighting