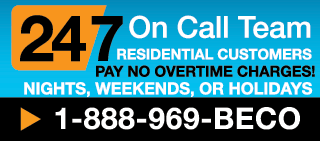 "I live in Charlotte and the gentleman that came to my mother's home in Sophia was patient and kind to my mother. He also called me with an explanation as to what the problem was and how he would fix it."

Electrical Contractor in High Point, Winston-Salem, Burlington, Greensboro
Home Renovation & Addition Electrical Contractor
Beco Inc., an electrical contractor in Winston-Salem, Greensboro, Burlington, and High Point, can advise you in the layout of the wiring and the requirements for your home renovation or addition. A layout plan is not only necessary it is wise, especially in cases such as the following:
You want to avoid creating a fire hazard
Your home renovation or addition is intended to be a home office or home theater, requiring special electrical systems to support office equipment or home theater audio/video
Exterior lighting and landscape lighting as part of your home security
Updates and requiring of the main electrical systems to support the new addition or renovation;
You want to save as much money on your energy bills, not spend more because of the new renovation
And, last but not least, wiring properly for the required number of receptacles and getting the right overhead lights in the necessary quantity
As a residential electrical contractor in Greensboro, High Point, Burlington, and Winston-Salem we are more than qualified for this kind of work. Beco Inc. Electrical Contractor is licensed in North Carolina, South Carolina, Virginia, Georgia, and Florida.
So whether your home renovation or addition includes hot tub or swimming pool lighting, a kitchen renovation requiring more outlets, attic exhaust fans, or replacing switches with dimmers or timers, contact your local electrical contractor in High Point, Burlington, Greensboro, and Winston-Salem with over 50 years of experience in the industry. Beco Inc. provides quality service and workmanship with a 100% guarantee on all work performed. Our electrical technicians are available 24/7 365 days a year-with no overtime charges ever-nights, weekends, and holidays for our residential customers.
Contact Beco Inc. today, at 1-888-969-BECO to schedule your free estimate or service today.