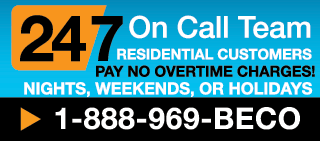 "The salesman that came to my house was pleasant, not in a hurry and willing to take the time to go through step by step of how the procedure would go. Could not complain about any service from beginning to end."
"The people you have working for you are very professional and the work shows."
"The rep thoroughly explained what we needed to know about the Generac generator, answering all questions."

Step by Step guide to your Beco Inc. Generator purchase and installation
Residential and commercial generator installations are available to meet your budget and electrical needs during a power outage due to a storm or other emergency situation. A generator will provide full use of electrical products during a power outage so that you are able to continue on, business as usual in your home or office space.
Contact Beco for a Free Estimate
Contact Beco at 1-888-969-BECO, or by email here.
A Beco Inc. sales associate will come to your residence/business to perform a free, no obligation site survey to provide a choice of systems to suit your budget and needs
At this time, Beco Inc. will provide an installation estimate
Customer will schedule installation at the customer's convenience
The installation and startup of generator will take place at scheduled time and will then be inspected by the local inspection department