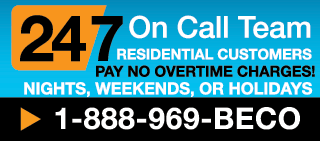 "The salesman that came to my house was pleasant, not in a hurry and willing to take the time to go through step by step of how the procedure would go. Could not complain about any service from beginning to end."

Retrofit Recessed LED Lighting Solution
The Halo series is a revolutionary recessed lighting product line that allows energy efficient and long lasting LED technology in a retrofit baffle and trim configuration. Whether its new construction, remodeling, or retrofit, Halo can be installed in new or existing, standard or shallow, recessed housings. Wet rated and dimmable, you've got to see this product video to believe it! Contact Beco today to get a fully installed solution.
Commercial Retrofit LED Solutions
You no longer have to tear out the ceiling to get energy efficient LED lighting in your commercial application – you don't even have to change the current housing! The new Wavestream™ LED technology and Metalux SkyRidge series allows retrofit installation of new LED lighting into existing fluorescent fixtures. Check out the video below and see it for yourself, then contact Beco for a fully installed solution!