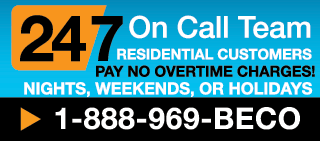 "The salesman that came to my house was pleasant, not in a hurry and willing to take the time to go through step by step of how the procedure would go. Could not complain about any service from beginning to end."

Telephone, Data & Cable TV
Facilities primarily depend on the telephone, data, and cable television to run their day to day business.
At Beco Inc. we understand that the area of technology is of upmost importance for a business or facility to run smoothly. We are able to provide support with a variety of your technological needs in order to make your work area as convenient as possible. Below you will find a sample of our telephone, data, and cable television service areas.
Telephone and Data Cabling
Telephone and Data Outlet Relocations and/or Additions
CATV Outlets
Wireless Applications
Flat Screen TV/Monitor Installation and Wiring Capabilities