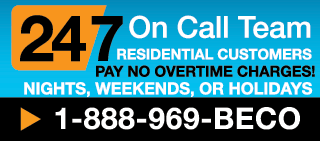 "The salesman that came to my house was pleasant, not in a hurry and willing to take the time to go through step by step of how the procedure would go. Could not complain about any service from beginning to end."

Energy Saving Products help to lower the overall energy consumption of your facility which saves money on your power bill as well.
Beco Inc. offers many energy saving options in order to assist with overall energy consumption and usage. Through the implementation of one or more energy saving options offered by Beco Inc. your facility is able to save money on your power bill and also reduce the electrical energy usage levels. Below you will find a sample of energy saving products and services offered by Beco Inc.
Occupancy Sensors
Energy Audits
Energy Saving Lamps and Fixtures
Timers
Lighting Controls